DANA FUNDS:
Resilient portfolios built for the long-term.
Invest Wisely.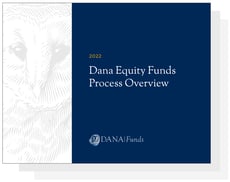 Our "Superprocess" consists of quantitative modeling to rank potential investments and qualitative research into managers and business models, and each of these steps includes ESG factors. We add to this a disciplined adherence to sector and industry weightings so that we're not unintentionally allowing human bias to affect your investments.
Check out our presentation for insight into how we add, rebalance and sell to build resilience.